Services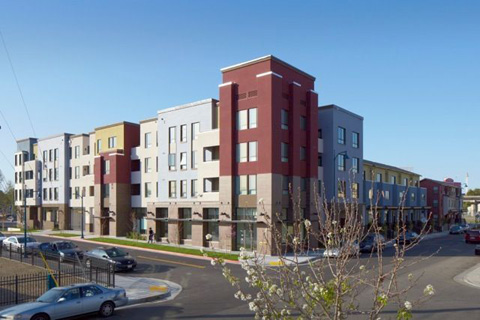 At South Prescott Village, the courtyards Tom created are the heart of the project. The interactions that occur there are akin to meeting at a village well.
–Bruce Beasley, Developer and Artist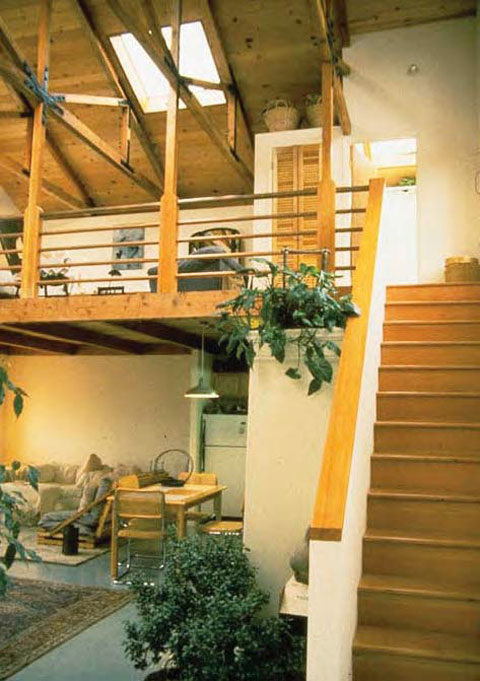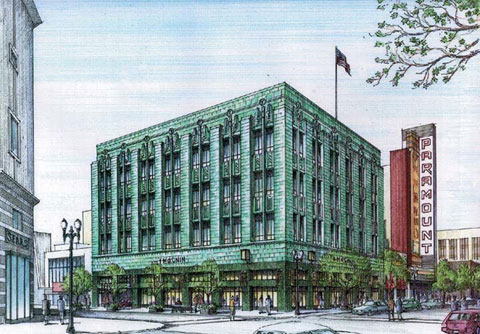 Architecture
Design is the fine art of turning constraints into opportunities.
Approach
TDA designs buildings, gardens, and courtyards that become settings for lives well-lived and–often–productive work. TDA is known for its early courtyard live-work communities, whose common spaces facilitate community in ways that were nothing less than a revolutionary rediscovery. Since the firm's founding in 1985, Landscape and site design have been an integral component of all TDA projects. We believe that mixed-use urban infill in areas where infrastructure and city services already exist is the most appropriate form going forward:
as mixed use within a building
set in a mixed use context, or
as live-work, the most pure form of mixed use
When we work with you, we
Listen carefully to what you want to achieve, and propose innovative, pragmatic solutions
Assess your project and the problems you want to solve
Involve you in the initial design process, iterations & revisions as the project evolves and the design improves
Share our 30 years of experience in design, development and construction of live-work and mixed use projects
Build a well-orchestrated team of professionals with whom we have worked successfully on past projects
Skillfully guide your project through the approval process, taking full advantage of our experience on both sides of the permit counter
Remain actively involved throughout the design, permitting and construction phases, ensuring a finished project that fully expresses its original intent
We design buildings that
Feel good to be in and improve the lives of their occupants
Are beautiful to look at and a pleasure to inhabit
Facilitate interactions between people in and around them
Fit their context and therefore belong where they are built
Meet our clients' needs for economical, market-aware design
Are Green in the most profound way, as Zero-Commute Housing®
---
Urban Design
Approach
Virtually all buildings face onto streets or other elements of the public realm. Urban design shapes the experience of that public realm to activate the street and create livable communities. Urban design–both a larger-scale version of architecture and the three-dimensional expression of what planners regulate–is an enduring pursuit at TDA. Performed largely in collaboration with teams of professionals, our urban design sensibilities are reflected in virtually every project we design, including individual buildings.
A street is a room, made by agreement of the property owners… —Louis Kahn
TDA collaborates with other professionals in the private and public sector to
Design individual buildings that harmoniously fit their site and environment
Design the positive space between the buildings to be a place of interaction and comfort for its occupants
Design groupings of buildings set in both semi-public and public realms
Create form-based codes that result in predictable building forms and a public realm that has real meaning for its users
Integrate the many types of live-work into flexible "neighborhoods that learn"
People go where people go where people go… —Jan Gehl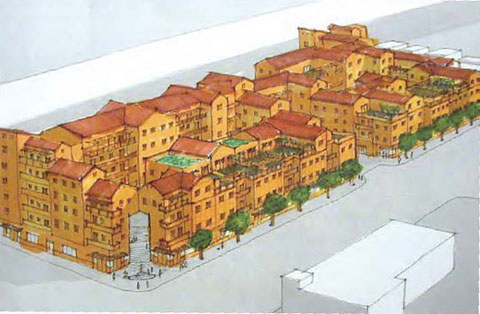 At Livermore Village, TDA helped us to take dysfunctional prior design and—through the use of Parklift® and liner live-work units wrapping double podiums–transform it into an award-winning project…
—Dan Parolek, Opticos Design
---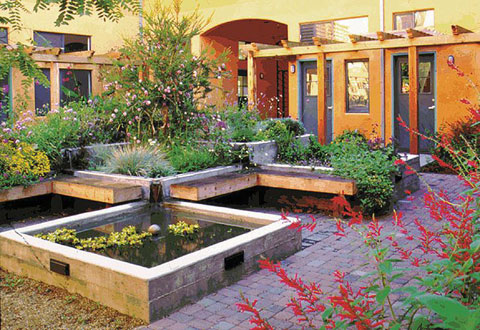 I never knew I could live like this; now I never want to leave!
–South Prescott Village Resident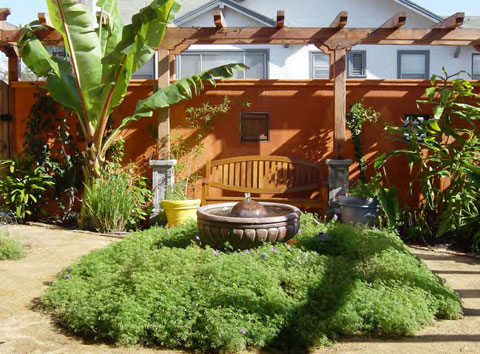 Landscape Design
Approach
Landscape and site design are an integral component of TDA projects. Virtually all include courtyards and gardens designed to facilitate informal interaction—and when done right, they do! Thomas Dolan was trained as a landscape architect, and the firm's work reflects that orientation. We also design selected standalone landscape design projects.
When we work with you, we
Listen carefully to what you want to achieve
Share our 40 years of experience in landscape architecture
Guide the project through the approval process
Advocate innovative solutions to landscape and sitework problems
Specify location-approprate plants in calibrated hydrozones
Specify state-of-the art irrigation systems
Remain actively involved throughout the design, permitting and construction phases, ensuring a finished project that fully expresses its original intent.
The landscape and site design component of TDA projects
Maximizes opportunities for casual interaction as residents come and go in ways that:
Lead to a sense of community within projects
Allow a building's residents to connect with their surroundings as a community
Maximizes activation of the public realm onto which the building faces.
Seamlessly connects indoor and outdoor spaces in a continuum of experience
Adds meaning to the spaces between buildings, creating true places
Activates courtyards, often with water, thereby adding sound and motion
Connects residents with changing seasons and the passage of time
---
Development Consultation
Approach
Thomas Dolan has been designing, developing and building live-work and mixed use infill projects for three decades. While always the project architect, he has been the general contractor for a number of his development projects, worked as a real estate agent and sold or leased his own and others' live-work and residential units, and served as managing partner. He has lived where he worked for the majority of his career. This breadth of hands-on experience–in addition to his pioneering live-work design discoveries and the recent publication of Live-Work Planning and Design: Zero-Commute Housing–positions TDA as the natural choice for clients seeking advice in the realm of live-work and mixed-use urban infill.
As Development Consultants,
TDA is available to
Advise on live-work's unique role in flexible development strategies
Assess one or more sites or buildings for suitability for live-work
Participate in charrettes and early design workshops
Prepare feasibility studies, to include:

Conceptual design sketches, drawings and renderings
Planning and building code analyses, including any proposed changes
Market Studies (with others)
Construction Cost Estimates (with others)
Proforma Analyses, using TDA's proprietary live-work templates
Bound reports for lenders, investors and others
Click here to arrange a free 30-minute phone consultation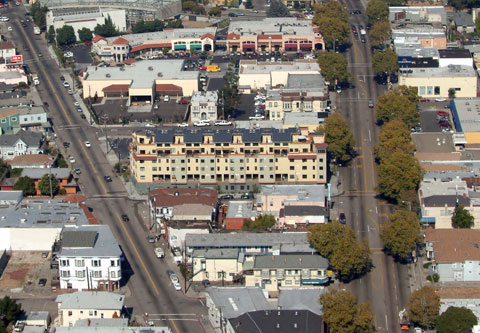 ---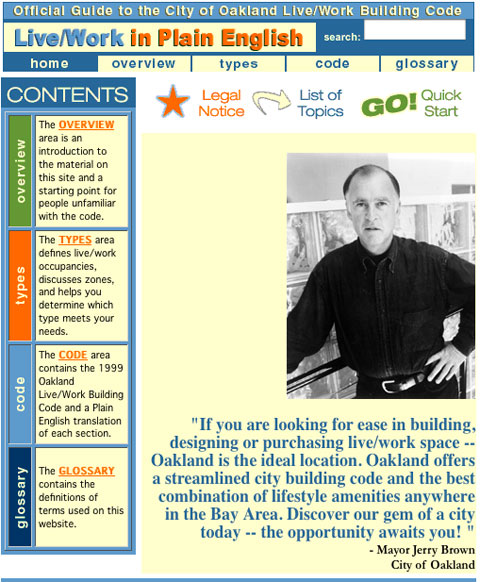 It is always a pleasure working with Tom, because he knows the code so well, and in fact wrote some of it.
–Ray Derania, Chief Building Official, Oakland, California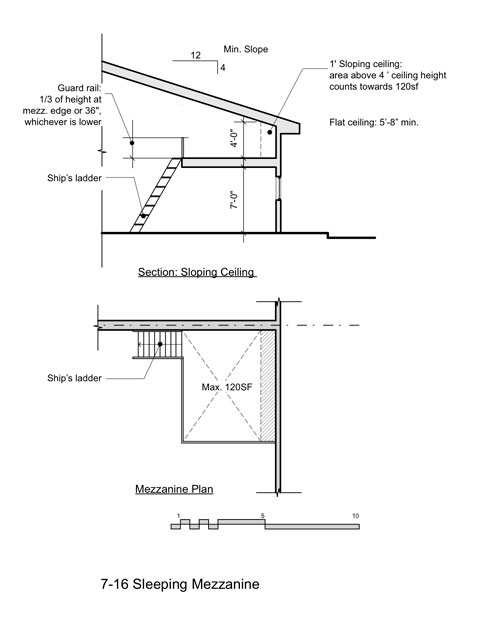 Live-Work Code Consultation
Approach
The simple proposition of allowing people to live where they work has been a battle with planning and building officials since the first loft buildings were colonized by artists. Building officials claim that residence must be separated from work occupancy; planning officials don't know what to make of two uses in one unit. Heretofore, regulatory solutions have often been cobbled together as if no other city had considered live-work.
Thomas Dolan has consulted and written live-work codes for numerous cities in North America, and his book Live-Work Planning and Design: Zero-Commute Housing sets out a standard lexicon of live-work that contains model code approaches, serving as a guide for all future live-work regulations. Our consulting services bring this experience to your city, as you revitalize existing urban locations.
As live-work consultants to either government or a private entities, TDA will
Assess a jurisdiction's live-work planning, building and fire regulations
Highlight inconsistencies that could hinder project approval processes
Analyze the objectives of new live-work regulations, and advise the client regarding how to best regulate to achieve the desired outcome
Propose, write and coordinate code revisions that will:

permit locally calibrated, feasible, pragmatic solutions to the problems they have found,
encourage live-work as an important building and land use type and catalyst for economic development
reinforce existing local plans and policies
ensure coordination between planning, building, and other city departments' regulations as they are applied

Remain available to the jurisdiction to perform Live-Work Czar services, thereby ensuring implementation of the new regulations as intended
TDA has also worked on numerous legalizations (A-link here to legalization projects) of illegal live-work buildings, a process that involves complex negotiations with planning, building and fire officials—often leading to revised code provisions.
During a typical live-work legalization, TDA will
Analyze the code issues present and formulate a plan to correct them
Meet with the owner and city officials
Negotiate code equivalencies and relaxations, including new code provisions if necessary
Assist with formulating a plan to phase the improvements, while considering the needs of the owner, regulators and sitting tenants
Create all necessary drawings and permit submittals
Continue to be available as conditions change
Confirm the completion of the necessary work
---
Live-Work Czar Services
Approach
Many jurisdictions' planning regulations contain vague references to live-work, but the first few applicants who bring live-work projects to the counter often discover that implementation is another story. A Live-Work Czar is a consultant or contract staff person whose task is to ensure the effectiveness of live-work policy and regulations as an essential strategy for urban revitalization and neighborhood transformation within that jurisdiction.
Thomas Dolan, The Live-Work Czar

Consults with the jurisdiction to coordinate and refine regulations to encourage live-work
Trains planning, building and fire department staff in implementation of the regulations
Writes plain English interpretations of live-work and other regulations for staff and applicant use. (LWPE Oakland)
Works with live-work applicants and staff to shepherd their projects through to completion, including both planning entitlements and building permit approval.
Reviews potential applications with staff and applicants to revise or refine their designs to conform to best practices in live-work design and planning
Click here for a detailed description of Live-Work Czar Services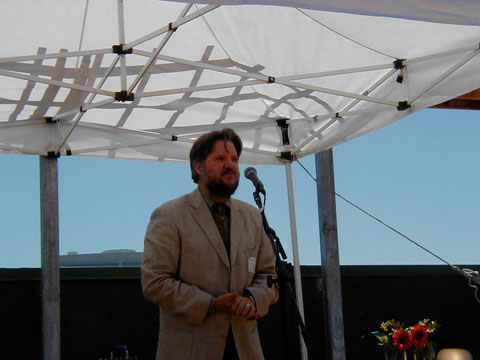 Thomas Dolan worked effectively with our city to ensure that incoming project applications met the intent of our mixed use town center plan, which included regulations for live-work that he helped us to implement.
—David Heindel, Redevelopment Director, Suisun City, California.
---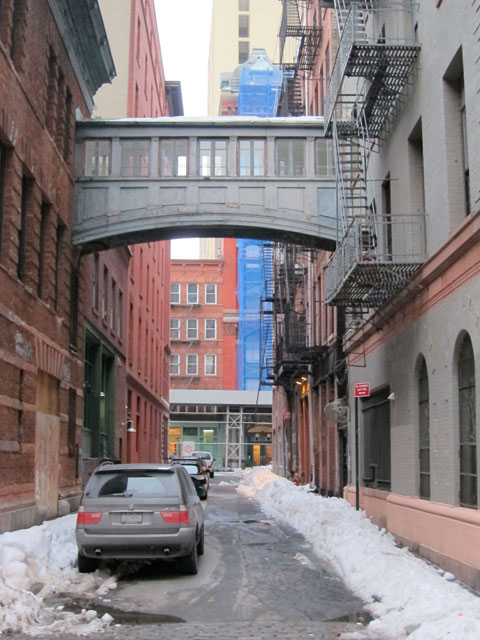 Tom's incomparable experience with live-work types and issues was invaluable as we sought to address the problems of use conflicts between live-work and industrial users.
–Rob Leshgold, co-author, Work/Live in Vancouver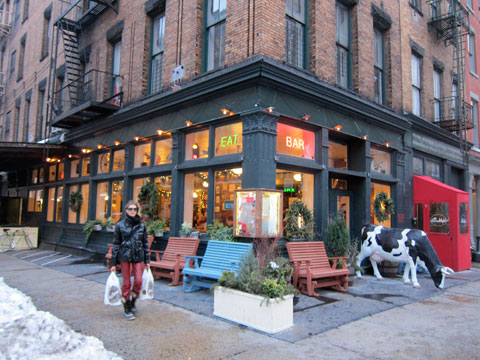 Area Transition Studies and Specific Area Plans
Approach
The presence of illegal live-work can be an important harbinger of change. After artists colonize underutilized buildings, galleries and cafes open, rents go up, and then the artists are often forced to move. However, when all goes well, a neighborhood is created. Often called The SoHo Effect, TDA has seen this phenomenon many times and observed its winners and losers, its successes and failures. The firm has consulted with numerous North American cities that have experienced The Soho Effect, resulting in work products ranging from policy recommendations to specific live-work planning and building code provisions.
TDA applies 30 years of experience to
Analyze the situation and determine what forces are at work and who the players are;
Convene stakeholder meetings to listen to their concerns
Work with artists or other groups to arrive at proposed solutions
Assist with decisions regarding an area, be it

Transition to a walkable, mixed use urban place
Preservation of its industrial uses,
Protection of Artists' long-term affordable tenancy in an area, or
A Combination of the above

Provide consulting services as part of a team of planners considering options for areas in transition or undergoing specific area plans.
When looking at a specific plan for an area in transition, TDA's experience with such situations adds value to the team's efforts. Live-work's flexibility, i.e. its ability to "learn" and shift uses over time, can be a key element in a district undergoing change. The firm's familiarity with live-work types can be an asset to both a form-based coding process or a more traditional zoning approach.